A commitment for the future: our corporate social responsibility (CSR) program
As a responsible partner in the vegetable food chain, we are committed to helping better nourish people everywhere. Our aim has been to give this commitment concrete form. For this reason, we have launched our UpTo7 CSR program. This is a program that sets our internal teams working on seven targets to contribute to sustainable development within our company.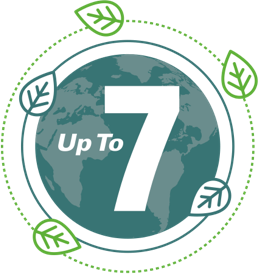 1. Ensuring the health, safety and well-being of our 1000 associates
By means of this target, we are aiming at excellence in terms of the safety and well-being of all our employees and sites throughout the world.
2. Committing to our partners in terms of ethics and transparency
Our objective is to set an even better example in the way we do business and to remain true to our values. We share those values with the Limagrain Group. Download the Limagrain code of conduct.
3. Developing an innovative governance system named CORUM
This is based on decisions taken collaboratively, focusing on collective intelligence, to enable a more effective response to problems. Specifically, it is based on working committees comprising employees who are experts in their field, ignoring hierarchical distinctions.
4. Improving our attractiveness and talent management to make our excellence a lasting achievement
We aim to become a preferred employer in order to attract, train and retain the talents of today and tomorrow.
5. Fostering local projects, creating a link with local people close to the ground and transmitting our knowledge
In Japan, for example, we run gardening workshops in schools to introduce children to the importance of vegetable and varietal diversity.
6. Strengthening our partnerships and creating new links to encourage new innovations
Our objective is to be able to respond to all forms of agriculture: from subsistence agriculture in developing countries to ultramodern peri-urban farms. We also wish to include more environmental aspects in our product offering by developing organically produced varieties. Our research investments not only allow us to participate in developing biodiversity but also to reduce application of plant health treatments.
7. Controlling our impact on the environment to contribute to combating climate change
We implement environmental management measures (waste and water management, biodiversity protection) and we aim to reduce our CO2 emissions. We are also involved in the sustainable renewal of French and European forests through our tree seed business.